The earliest 'Mud Dabbers' incarnation was in the 1970s as a Dodson family booth at craft shows around Columbus, GA. John O., who worked for the City of Columbus Recreation Department, had been making pottery for years. He taught his children, Beth, John E., Brad and Becky, how to make items from clay, which they sold at these shows.
The Dodsons took the name "Mud Dabbers" as a play on the mud dauber insect. Early in the history of the family enterprise, John O. would throw pots in an old shed on the family's Fortson, GA home place. He soon found that the long, cylindrical mud dauber nests being constructed on the walls of the shed varied in color. They were being made from the different clays he used in his pottery! John E., the family artist, designed the wasp-like mud dabber, which is a featured mark on all pottery produced by members of the Dodson family.
John O. and Sybil made the move to Brevard, NC in 1988, where John ran the pottery program for the Rockbrook Camp for Girls. They opened the first Mud Dabbers Pottery shop at a location across the street from the camp. John O. and Sybil worked at the camp and operated the shop until their retirement in 2000.
At that time John's son, John E. and his wife, Carol moved the shop about 200 yards down the highway from its original location and took over the reins of the business. Mud Dabber's is now located in the historical general store building that was for many years known as "Powell's store." For more history on the building, click here.
Now instead of offering just family pottery, the store offers the work of many talented local potters.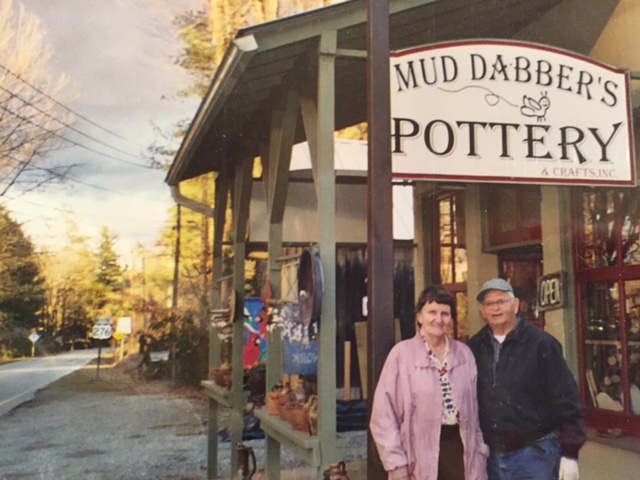 John's brother, Brad, operates Mud Dabbers Pottery & Crafts, Inc. outside of Waynesville, NC. Opened in 1997, the shop features Brad's work, as well as that of local potter, Mark Karner, and others. The shop is located seven miles west of Waynesville on Hwy 23/74 between a rest area and the Balsam Gap entrance to the Blue Ridge Parkway (20767 Great Smoky Mtn Expwy, Waynesville, NC, 828-456-1916).
Sybil passed away in 2010. The original Mud Dabber, John O., still helps out occasionally at both shops, waxing or glazing pottery and providing the continuing encouragement to potters and warm welcome to customers for which he has always been known.